Create AI Kanye West covers songs as seen on TikTok, YouTube and many other platforms!
Step 1 - Register for Voicify AI
Begin by signing up for a Voicify AI account at
Voicify.ai/signup
to make your own Kanye West AI song or other AI-generated music.
Step 2 - Select the Perfect Voice Model
Once you're logged in, navigate to the
Voicify AI models page
to explore a wide range of voice models, including those resembling Kanye West and other popular artists.
Choose your desired model, then click on it to proceed to the generation page for your Kanye West AI song creation.
Step 3 - Upload Your Music File
On your chosen voice model's page, upload your file by dragging and dropping it into the designated area or clicking the area to select a file.
You can upload an acapella track or a full song—Voicify AI will automatically extract the acapella for you.
Step 4 - Customize Your AI Kanye West Song
Before converting your song, you'll have the option to name your AI-generated Kanye West cover (optional) and decide whether to share it with the Voicify community.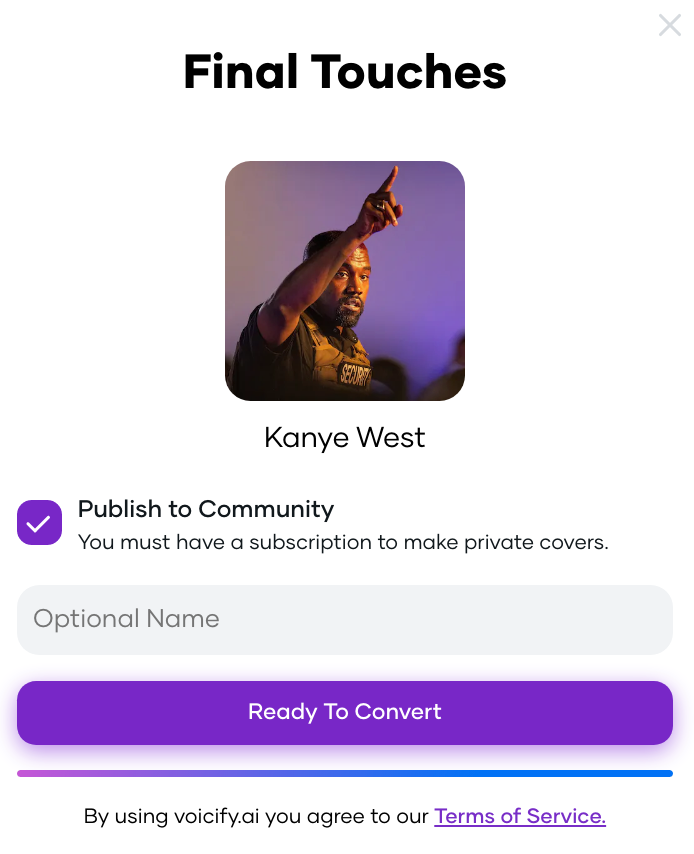 Step 5 - Generate Your Kanye West AI Cover Song
Once everything is set, click the "Ready To Convert" button. You'll be directed to the conversion page where you can watch your AI Kanye West song come to life!

After waiting for approximately 30 seconds to 1 minute, your Kanye West AI cover will be ready for download. Enjoy your new AI-generated music and use it wherever you want, as long as it complies with Voicify's Terms of Use.
Congratulations! You've successfully created a Kanye West AI song using Voicify AI, opening up a world of possibilities for AI-generated music covers and remixes.